New Stockist Alert
Posted by ESIN AKAN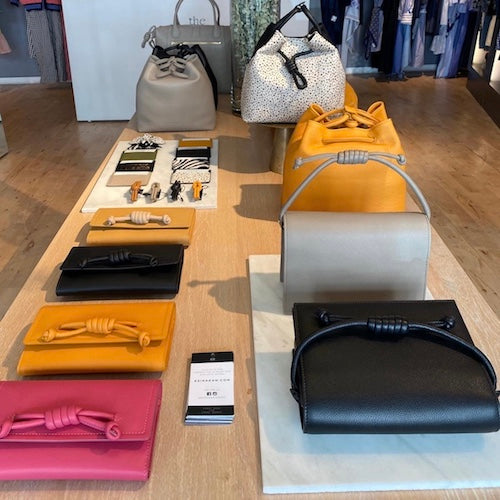 We are proud to announce that Esin Akan bags are now sold at Hudson Bay Canada, Lord & Taylor USA, Zalando UK and Europe; and Manor, Switzerland. 
While most retailers have been struggling with their retail store sales during the pandemic, some managed to grow their sales through their online sales. Our focus also have shifted towards online store partnerships. We are available online with our full range in all these stores.
Due to Brexit, the customs and logistics have become a burden both for brands and the customers. This is part of the reason we partnered with Zalando. For all our European customers our bags will be shipped from Zalando Germany Fulfilment Center while for our UK customers we will be shipping from our UK warehouse. While this helps to avoid last minute surprise fees to customers and delays at customs, it will help us to reduce our logistical costs and grow our sales in the European market. Esin Akan Bags will be available on Zalando UK, Germany, Austria, France, The Netherlands, Belgium, Ireland, Poland, Spain and Italy. With this partnership all our European customers can purchase our bags with peace of mind. With excellent customer service of Zalando, we will ensure all our customers are happy wherever they order the bags from. 
About our growth in US and Canada, our partnership with Macy's for the past four years have been tremendous help in increasing our brand awareness in US market and gaining lots of loyal customers (30% of our Macy's customer are returning customers, guess that means they are happy with our quality and service!) While this partnership helped us to gain confidence in the growth potential of this market, it also increased our appetite for further growth in North America. During Macy's Fort Lauderdale pop-up in 2018, we heard about the term "winter birds" a term used in US to describe people that visit Florida to get some sunshine during cold winter months. Here is one winter bird that loved our handbag range and turned out to be one of our loyal customers.
However, with Macy's we can only ship to US based customers. This is why we partnered with Hudson Bay, Canada...to provide the best service to our Canadian loyal customers and grow our brand in Canadian market. Our markets turned out to be "women who value our unique designs and high quality." As Scandinavians, Canadian customers love minimal aesthetics and high quality bag. You can purchase our bags at Hudson Bay Canada through this link. 
In U.S.A we also partnered with Lord & Taylor in order to reach their long standing loyal customer base. Lord & Taylor is America's oldest department store chain, which has now become an e-commerce retailer. Established in 1826, the company has managed to revitalise it's merchandise with new and up and coming designers.
Apart from these stores Esin Akan also partnered with Manor in Switzerland in order to reach the quality & value savy Swiss clients. Manor is a Swiss department store chain owned by Maus Frères of Geneva, Switzerland's largest department-store chain that owns Lacoste and used to own Printemps, France.  
In all our partnerships we offer Free Shipping and Returns and all customs and duties are paid. We look forward our growth with all our new customer base. 
For any enquiries related to sales pls contact Esin Akan, info@esinakan.com 
Here are our favourite picks from our newest collection:
Collection 2019
Sale 70% Off
Title for image