Looking for a Lightweight Bag?
Posted by ESIN AKAN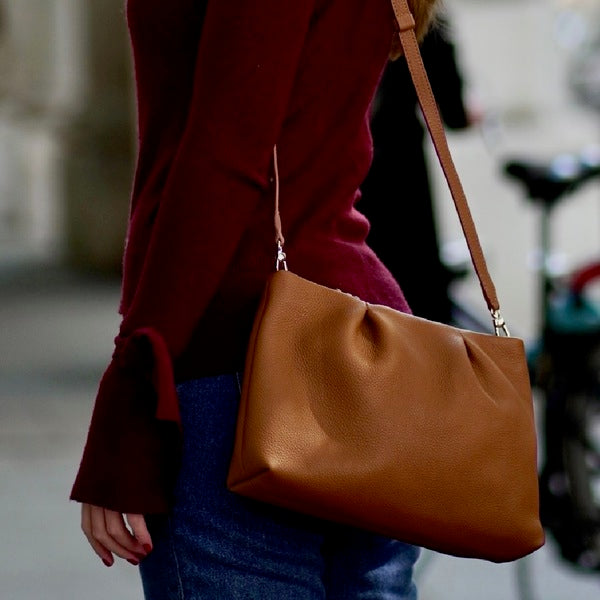 Shop Midi Belgravia Crossbody Bag in Tan - £395 >
Every person would love to appear stylish before others. In other words, looking good is something that is liked by everyone. Style and fashion are both an ever-changing phenomenon and hence if you need to remain stylish in this generation, then the most important thing that you need to do is always accept the fact that you would have to change very frequently. Also when you make this change, there are a lot of things that should be taken into consideration or else there are chances for the change to go terribly wrong. And the worst part is that if the choice goes wrong, the visual appearance of the person would be destroyed completely.
And when it comes to the visual attractiveness of the person, the accessories that he or she uses are also quite important. And if you are a person who carries around a bag, then this bag would be a key factor in deciding the attractiveness of the person. Also when selecting a bag, comfort should also be considered. This is where lightweight bags come into the limelight. If you are a frequent traveller then lightweight travel bag would also be very option when it comes to buying a bag.
The prices must be compared:
If you are looking for a bag from a retail shop, then you would have a range of products to choose from. The first thing that should be considered is the price. As a first step, find out the products that fit in the price range that would fit inside your budget. Then make comparisons between the bags in the range based on other aspects like durability, design etc. Also, you must keep in mind that spending a little more for a product that is more durable is not a very bad decision.
 Shop Emma Navy Leather Tote Bag - £495 >
Sign up to our VIP Club and enjoy 10% OFF your first order.
Go for a durable bag:
If you are looking for a lightweight travel bag or any other kind of bags, the best option would be to go for durable ones. Durability is something that depends a lot on the material of the bag. The material can be leather, cloth etc. But the choice should be made by keeping the purpose in mind. For daily usage, it would be better if the bag is a light weighted one. lightweight leathers are available these days, and hence these would impart both durability and light weightiness into the bags. 
The Emma Tote Bag is one of the most popular bags in the present day market. Before making the purchase, it would be wise to go through the reviews about the products that you see in the shop on the internet. Buying from online shops would also be a good option. But make sure that you seek help from reputed sites.
Make sure that you consider all these factors when choosing a lightweight travel bag or any other kind of lightweight bags. 
Be the first to know about the season's hottest collections, new products and exclusive offers. Sign up to our VIP Club and enjoy 10% OFF your first order. GET MY 10% OFF!
Collection 2019
Sale 70% Off
Title for image