How to Style Your Black Tote Bag in spring?
Posted by ESIN AKAN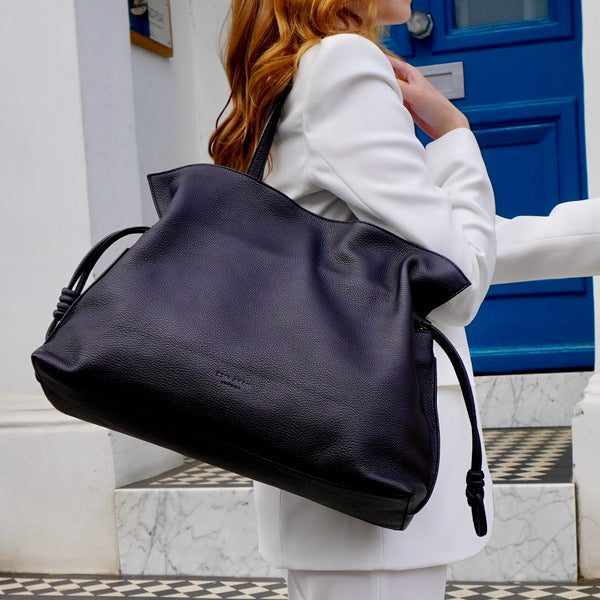 Shop Emma Black Leather Tote Bag - £495 >
When it comes to fashion and style, one would have to alter his appearance every now and then in order to stay in touch with the latest trends in the field of fashion. At the same time, it is important to make these changes quite wisely or else the outcome of the changes wouldn't be as effective as intended. Also, there is a chance that the outcome would be a negative one and the person might end up having a worse appearance.
One has to keep in mind that everything that a person carries is also equally important as clothes and makeup when it comes to the appearance. If the person in question is a lady and if she requires a bag to take her things around, then tote bags would be an appropriate choice. And the most popular colour when it comes to tote bags is certainly black. And the material that is the most popular is leather. So it would safe to say that a black leather tote bag would be the ideal choice when it comes to tote bags. But the problem is that these bags are quite costly and it would not be feasible to use them for just a small period of time and then buy a new one. So you would need to come up with plans to style your black tote bag so that you can use it without the trouble of running out of the current trend.
Sign up to our VIP Club and enjoy 10% OFF your first order.
Buying an outfit that would match the bag perfectly
This is perhaps the most effective method to ensure that you look good. Buying new bags for every season wouldn't be a wise decision. But buying outfits for each season would not be ideal at all. Hence if you purchase an outfit that would be suitable for the season and at the same time would be matching with the colour and design of the bag, you would certainly be able to ensure that you look good. Altering outfits that you already have would also do the job.
Making changes with the bag itself:
If the bag has a sling with clutches, then it might be possible to remove the clutches and thereby remove the sling of the bag. This would make the bag into a hand purse. This purse would be suitable for an evening party or some other occasion. Also if you are a person with some kind of design skills, then it would be effective if you could make some alterations in the design of the black leather tote bag, it would certainly look different and can be used as a different style.
Always make sure that you go for cost-effective combinations and alterations when it comes to styling your black tote bag. There are various sites that would provide you with lots of ideas when it comes to changing your style. But always make sure that you visit only reputed sites like Esin Akan.
Be the first to know about the season's hottest collections, new products and exclusive offers. Sign up to our VIP Club and enjoy 10% OFF your first order. GET MY 10% OFF!
Collection 2019
Sale 70% Off
Title for image