Why do some women prefer to carry two handbags at once?
Posted by ESIN AKAN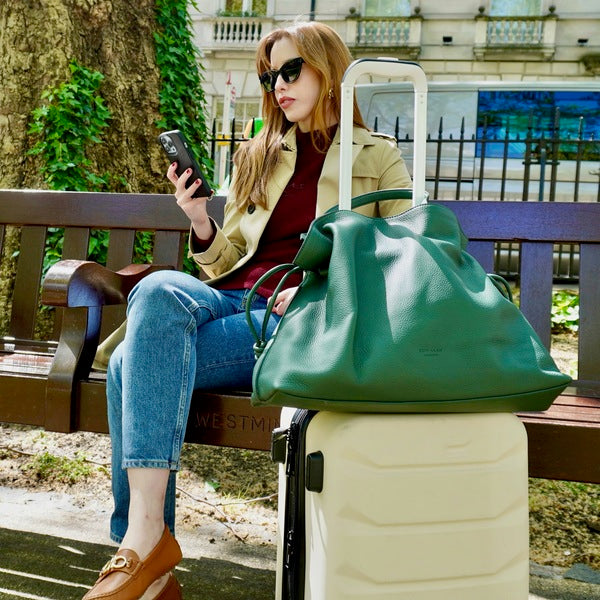 Shop Emma Teal Green Leather Tote Bag - £495 >
A woman has certain accessories to complete her clothes. However, in these accessories, there is an accessory that is identified with women where it is not possible to give up. It is almost impossible for a woman to give up her handbags. Bags are so important in completing an outfit that sometimes the colour of the shoe we wear will determine the colour and shape of the bag we wear.
A New Harmony
Today, the harmony of bags and shoes is very important for women. Even in most stores, shoes are sold in the form of bags of the same colour or pattern. The bags are large, small, colourful, bright, matte, simple and with a wide range of options to fit into any environment with convenient aspects.
Bags have a decisive place in women's life. There are some things that women don't want to separate. Almost everyone has to use bags to carry the essential items of today's world such as wallets, make-up items, and telephones, which are necessary when going out of the house.
Shop Midi Marylebone Teal Green Clutch Bag - £375 >
Sign up to our VIP Club and enjoy 10% OFF your first order.
Different Styles of Bags
This important accessory not only carries your bag but also plays an important role in your style. It is ensured that it is practical and collected in the same place and it is prevented from problems such as not to be lost and forgotten anywhere. Some celebrities carried two bags at the same time. This trend inspired many women. You can see on the street: There are hundreds of women carrying two bags at once!
Nowadays, there are different types of bags. They vary according to the intended use. Among these models, the shoulder bags offer a better solution for women in terms of security. One of the most important features of the shoulder to be attached to the bottom of the other shoulder is located.
Practical Solutions
One bag isn't enough for women. Because of the practical advantages of a bag are many! The bags are protected against snatching events. Shoulder bags are also handbags. Unlike these, handbags offer a more practical solution and are necessary for the transportation of important items which are in urgent need.
Esin Akan's unique design, which completes women's daily style professionally, doubles the elegance of the night. The way to look stylish is undoubtedly the most important complement of the combination is the bag.  If you want to learn more about Esin Akan's bags, you can visit her new designs on the website. Start the journey now!
Be the first to know about the season's hottest collections, new products and exclusive offers. Sign up to our VIP Club and enjoy 10% OFF your first order. GET MY 10% OFF!
Collection 2019
Sale 70% Off
Title for image