When Should I Carry A Red Purse
Posted by ESIN AKAN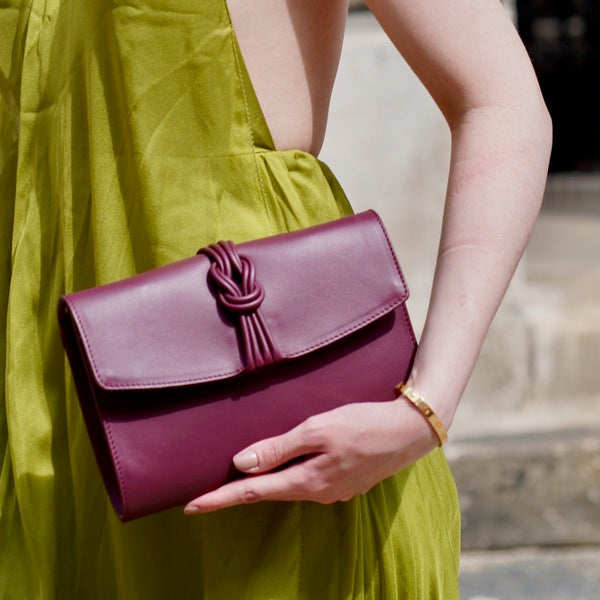 Shop Midi Marylebone Burgundy Clutch Bag - £375 >
If you truly want to make a fashion statement, carrying a stunning bright-colored bag will surely achieve your goal. Apart from being practical, bags are also great accessories to bring with you on a day to day basis. Typically, women go for the usual black or nude purse for their universality and versatility. However, sometimes you want to spice things up and stand out; a red purse is an easy way to do this. So if you're wondering if you should buy a red purse, here are some instances to give you an idea.
1. You're wearing a plain outfit but want to stand out.
Not everyone wants to dress to the nines on a day-to-day basis. Most people just want to remain comfortable and look decent with the least effort required. In this case, carrying a statement red purse will instantly transform your typical white tee and jeans.
If you own a well-structured red bag, it would not really matter much what you wear. The focus will be on your stunning statement bag.
2. You're tired of having the same purse as everyone else.
As previously mentioned, the most common colors women go for when it comes to any kind of purse are black and nude/tan. If you want to be unique and express your style, you could make a bold move if you buy a red purse.
Moreover, purses come with different shades of red. You don't have to settle for a bright red color for your everyday bag. Some of the most common red shades for bags are oxblood, maroon, wine red, and blush red.
Red convertible handbags are a good example of a unique purse to use as an everyday bag. They are highly versatile and functional without compromising aesthetic appeal and comfort.
Shop Cornwall Red Phone Crossbody Bag - £195 >
Join our VIP Club and enjoy 10% OFF your first order.
3. Your wardrobe is mainly composed of neutrals and solid colors or prints.
Are you one of those people whose wardrobe is mostly consisting of black, tan, white, and cream? It might be a good idea to spice things up by adding a red purse to your collection. Contrary to what most would say, red bags could be as versatile as a black or nude one. They go very well with most solid colors and patterns.
4. You want to look elegant without trying.
If you're always busy and find that you simply have no time to pick out outfits and accessories that go well together, buy a red purse and add it to your collection. It is an easy fix to always look ready, elegant and impressive without doing much work. Esin Akan's goal is to create bags that serve this purpose.
5. You want diversity in your outfits.
Are you tired of looking the same every day? Buy a red purse and spice up your collection instantly. You don't have to buy a bunch of different-colored clothes to achieve variety in your outfits. A simple addition of a red purse in your wardrobe will achieve the same effect.
No matter what shade of red your purse is, it's sure to elevate your look every time you carry them. Adding any type of red purse to your wardrobe is one of the best things you can do to improve your style. Browse through our bag collection, including unique convertible bags on our website to get hands-on your first red purse now!
Be the first to know about the season's hottest collections, new products and exclusive offers. Sign up to our VIP Club and enjoy 10% OFF your first order! GET MY 10% OFF.
Collection 2019
Sale 70% Off
Title for image