Our Top 3 Wedding Outfit Guide Tips
Posted by ESIN AKAN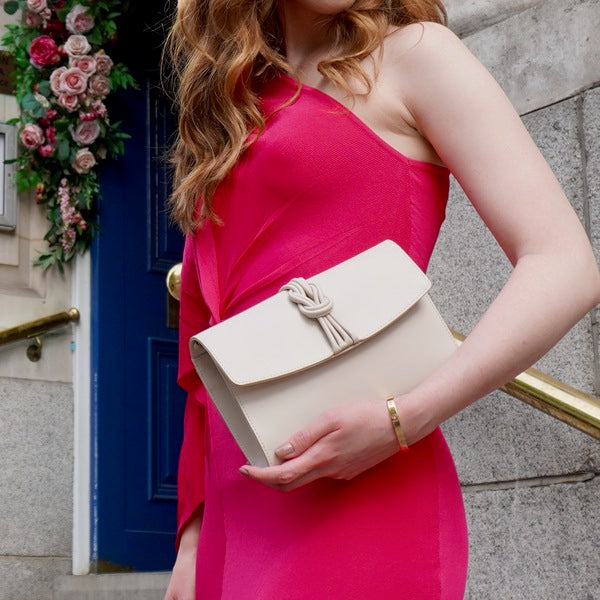 Shop Midi Marylebone Beige Clutch Bag - £375 >
The wedding of Prince Harry and Meghan Markle has made this wedding season special. With invites knocking the doors, people have fallen into a slightly confusing dilemma of "what should be worn to look perfect?" and some are even thinking "what should be avoided to get a perfect look?". Some think that bags like a leather crossbody bag will enhance their looks and some believe that an evening clutch will be perfect.
Although it is a very special day, remember that this special day is not yours. Always follow the golden rule of fashion etiquette for wedding guests – no matter how dazzling your perfect dress is, DON'T attempt outshining the bride.
It is true that dressing for the weddings is not easy. Instead, it is amongst the hardest decisions a woman makes. The looks, colour scheme, occasion, style and the whole theme are some factors to be considered while selecting that perfect wedding outfit. Here are the top 3 guiding tips to make your outfit for weddings perfect.
Style
The style is the first thing you should consider while choosing outfits for a wedding. Do you have your own style in mind? Don't neglect it because you will be most comfortable in your style. At the same time, consider what is in the trend. Go through some fashion magazines to get an idea of what the style you are thinking will look like. Besides style, make sure that the wedding outfit you choose should be of right size because only an outfit of the right size can enhance your personality. To get more inspiration, you can search the internet or visit different stores.
Sign up to our VIP Club and enjoy 10% OFF your first order.
Colour
For some people, colour is the most vital aspect of an outfit for a wedding. When got right, your whole outfit looks stunning. Conversely, a wrong choice of colour can be a disastrous decision for your outfit. Find out which colours are trending nowadays and decide accordingly. Another thing to consider is how the selected colour will suit your personality. There are some weddings which have a specific theme, so you should consider that factor also. If none of these work for you, there is always an option to mix and match the colours. Try to avoid wearing white.
A Bag
An outfit for the wedding is incomplete until it is complemented with a bag. The different styles of bags you can wear to a wedding can be a clutch wallet, evening clutch, convertible handbag or a leather crossbody bag. The first thing to consider is that the selected bag should look beautiful. Secondly, it should be comfortable to wear and use. Lastly, the bag you choose should not be too big because a bulky bag often comes in the way while conversing with friends or the bride and groom's relatives. Moreover, the bag should complement your outfit. Experts suggest that the perfect bag to carry to weddings is usually evening clutch or a clutch wallet.
You can get the wide variety of bags to complement wedding outfits by visiting the online store of Esin Akan.
Be the first to know about the season's hottest collections, new products and exclusive offers. Sign up to our VIP Club and enjoy 10% OFF your first order. GET MY 10% OFF!
Collection 2019
Sale 70% Off
Title for image