New Year, New Bag, New Life
Posted by ESIN AKAN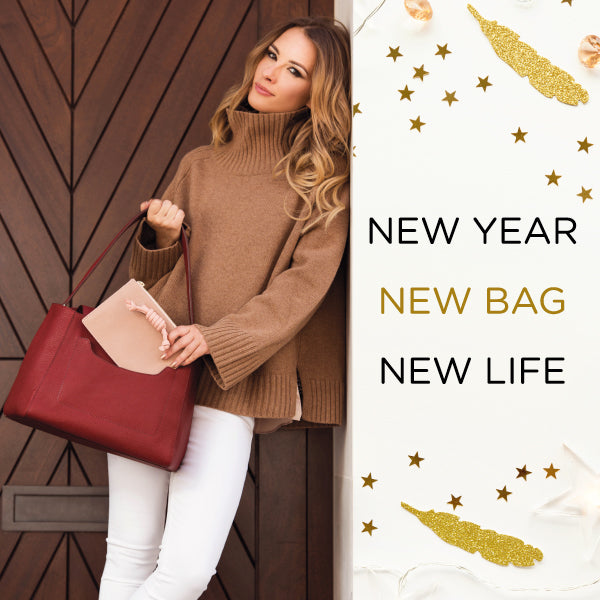 In this early phase of a new year, some people are coming up with new resolutions and some are introducing themselves to new things. Do you know why? The answer is quite simple - they want a new life. Here, new life means a change in their lifestyle.

Are you also the one looking forward to a new life this new year? Well, the simplest way is to introduce yourself to a new handbag, preferably a leather tote bag and enjoy your life in a new way. In today's busy life, it is important that smart women, like you, should always carry a professional, stylish tote bag for the workplace because it not only carries your work essentials but also holds the capacity to open new doors of opportunities for you.

Do you know that by carrying a smart women's work tote this new year you can get a promotion or new job? Yes, it's true, because when you carry a bag that is stylish and has enough room to hold your laptop, CV, files, and other work essentials, your employer or potential employer will surely notice your sensibility and responsible nature. And, you will be rewarded with the new job or a promotion.

However, one thing you should focus on is lightness. The work tote you carry should be lightweight because you already have to bring your laptop or files to the workplace. The work essentials are a lot of weight and if they are placed in a heavy bag, there are chances that your shoulder or back might hurt.
  

You can also begin this year with a handbag accompanied by a detachable clutch. Are you thinking what is the role of a clutch bag? Note that if you have access to a work tote with a detachable clutch at the workplace, you not only look stylish and elegant but can effortlessly attend after work drinks, networking events, or simply a business lunch.

A lot is being talked about a new bag in this new year but in reality, it is hard to find a work tote that fulfils all the needs of the smart working women. Fortunately, you don't need to search it anywhere because that perfect work tote is Milan from the house of Esin Akan.
Milan, in the shades of black and poppy, is the ultimate work tote. It instantly upgrades your looks and makes an impression on colleagues, seniors, and clients at the workplace. This bag is big enough to carry all your work essentials, has a detachable clutch, and weighs quite less. With metal feet at the bottom, it still has minimum metal accessories.

People usually think that a bag with an exaggerated logo is always an overpriced designer bag. But, when you are dealing with clients while carrying Milan, its understated logo doesn't let them infer something like that. So, in this new year, begin a new life with a new bag. Go for Esin Akan bags because they give you a professional and elegant look without the risk of looking prodigal.
Collection 2019
Sale 70% Off
Title for image