Convertible Backpack Edit
Posted by ESIN AKAN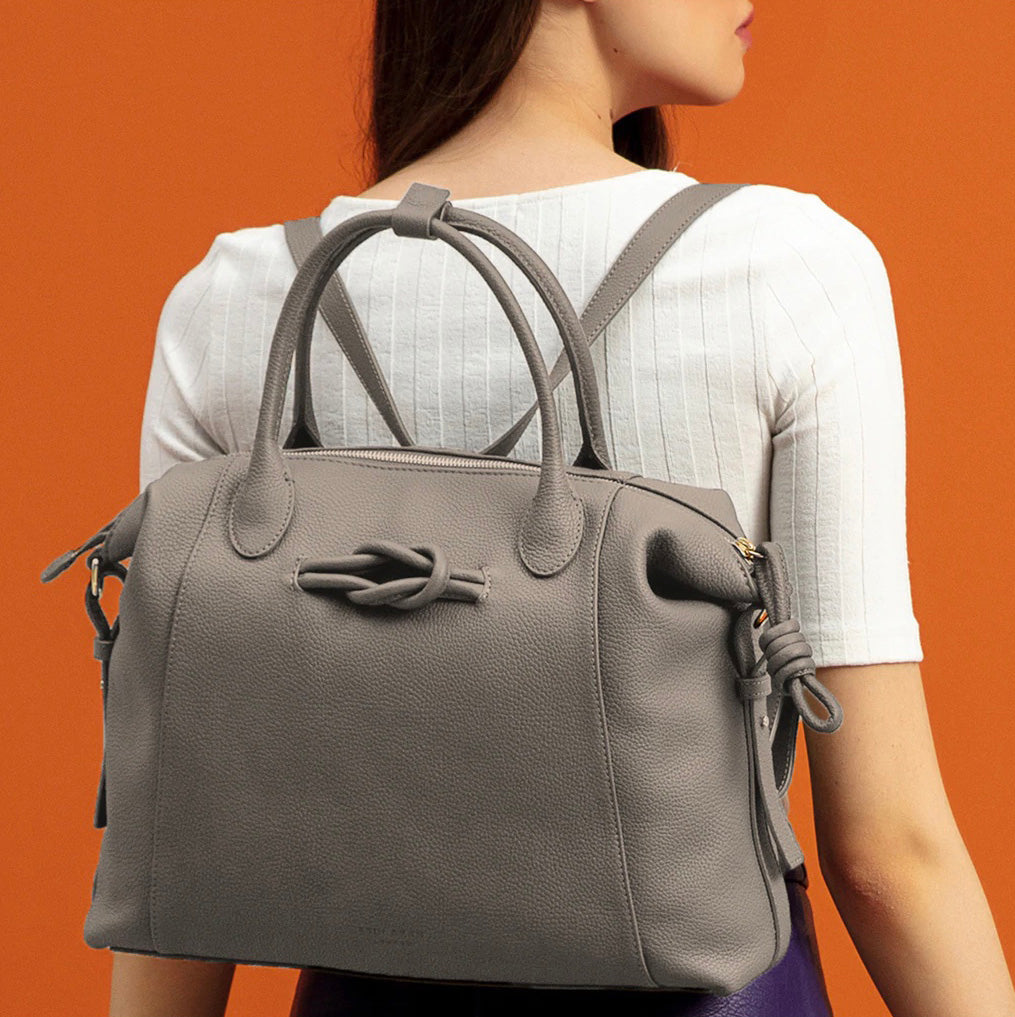 Shop Wimbledon Beige Backpack Tote - £347 >
This world always appreciates meaningful and useful. Amongst various options, the one gaining popularity nowadays is a convertible backpack. Before moving further, let's understand what is a convertible backpack? Convertible backpacks are the unique combination of functionality and beauty. In simple words, when an ordinary bag (such as a bucket bag) is capable to function as a backpack also, that bag is called a convertible backpack.
You can easily carry your everyday essentials in such a bag and the best feature is that you can anytime convert it into a work tote or a bucket bag. Below are some qualities of convertible backpacks in leather justifying why every working woman should have at least one such bag in her closet.
1.    Prevents Back Pain and Shoulder Pain
One common complaint with women carrying a shoulder bag to their workplace is the pain in their shoulders or back. Not to mention, office goers usually have to keep a lot of office essentials such as a laptop, files, and other important things in their bags. All such stuff makes their bag heavy and when that weighty bag is carried on a single shoulder, back or shoulder pain occurs. In severe cases, women are at risk of posture damage. On the other hand, if all such things are put into a backpack, the weight is evenly distributed on both the shoulders minimizing the chances of shoulder or back pain.
2.    A Healthy Option to Carry Loads
It is seen that overweight shoulder bags cause your body to suffer. It not only reduces the balance but can also misshape the natural curves of your lower back, causing strain in muscles. When you carry a backpack, this risk can be evaded because the arrangement of things in a backpack is completely different from that of a shoulder bag. You usually keep heavier things near the center of your back and lighter things on the front side. Moreover, dual straps of a backpack balance your posture. In short, a backpack is quite a healthy option to carry loads.
Sign up to our VIP Club and enjoy 10% OFF your first order.
3.    Leather is Luxurious
Every working woman knows that enhanced looks and an impressive personality are the big positives at an office. Besides confidence, your clothes and accessories play a major role. When you carry a leather bucket bag to the workplace that can be easily converted to a backpack, you automatically make the required impression on your colleagues, seniors, and clients. A leather backpack is not only luxurious but also provides the strength and longevity everyone wants in their bag.
4.    Successfully Handle Different Roles
The life of a working woman is usually busy. She is expected to successfully carry out different roles in her life such as at the workplace, during the weekend, while travelling, and with kids. If she has a trustworthy partner such as the Wimbledon Backpack Tote, she can comfortably handle different roles of her life. She can be an attractive and impressive personality whether at the office, during weekends, while travelling, at the parties or when she is with her kids.
If you also want to make a convertible backpack or leather bucket bag a part of your life, explore the online store of Esin Akan.     
Be the first to know about the season's hottest collections, new products and exclusive offers. Sign up to our VIP Club and enjoy 10% OFF your first order. GET MY 10% OFF!
Collection 2019
Sale 70% Off
Title for image