Latest Bag Trends For 2019
Posted by ESIN AKAN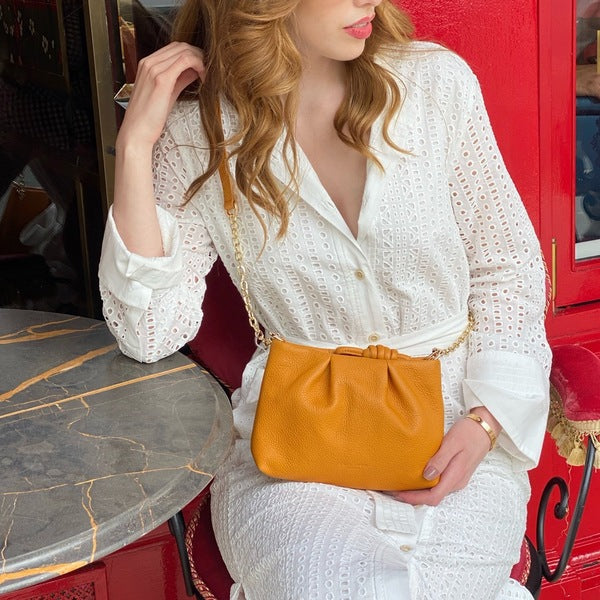 Shop Mini Belgravia Mustard Small Crossbody Bag - £285 >
It's no longer a secret, the latest bag trends for 2019 are out. After analysing the latest fashion weeks and reviewing the opinions of experts, a clear picture of the kinds of designer handbags that will be most demanded in the coming year is out.
Frankly speaking, it is a big challenge to wrap up all the upcoming handbag trends in just one article, so the hottest and trendiest kinds of bags are covered in this article. These designer bags will enhance your everyday style and their colour and design will help you create a statement.
Below are the latest bag trends for 2019. Some leather handbags for women of the coming season have already arrived in physical as well as online stores. All you have to do is take out some time from your busy schedule and start shopping.
Oversized Clutch Bag
An oversized handbag is an essential element is the closet of today's smart women. It helps them to carry all the crucial things to their workplace and it is a big help while travelling. But, for the time when you don't need to carry so many things, a sleek and oversized clutch bag is the perfect option.
Such a bag is big enough to carry your essentials and easily fits under the arm. These bags are perfect when you have to move from your workplace to an after-hours party or dinks session. You don't have to search here and there for an oversized clutch bag, it's Midi Belgravia from the house of Esin Akan. Famous as the ultimate designer multifunctional bag, it serves as a normal shoulder bag during the daytime and as a beautiful clutch bag in the evening. The smaller version of this bag is Mini Belgravia, which is available in a multitude of colours.
Sign up to our VIP Club and enjoy 10% OFF your first order.
All Shades of Berries and Cherries
Different kinds of leather handbags for women are ready to shine in the coming year, remember that the latest bag trend for 2019 comprises all shades of berries and cherries. It doesn't matter if you carry a tote, bucket or a cross-body bag, if your bag reflects the shades of cherries and berries, it will rock the coming year.
A handbag in these shades complements almost every outfit and is perfect for any occasion. Our personal favourite is the Midi Marylebone Burgundy, which comes with a semi-chain strap adorned with the brand's signature knot.
Be the first to know about the season's hottest collections, new products and exclusive offers. Sign up to our VIP Club and enjoy 10% OFF your first order. GET MY 10% OFF!
Collection 2019
Sale 70% Off
Title for image