Can a leather purse get wet?
Posted by ESIN AKAN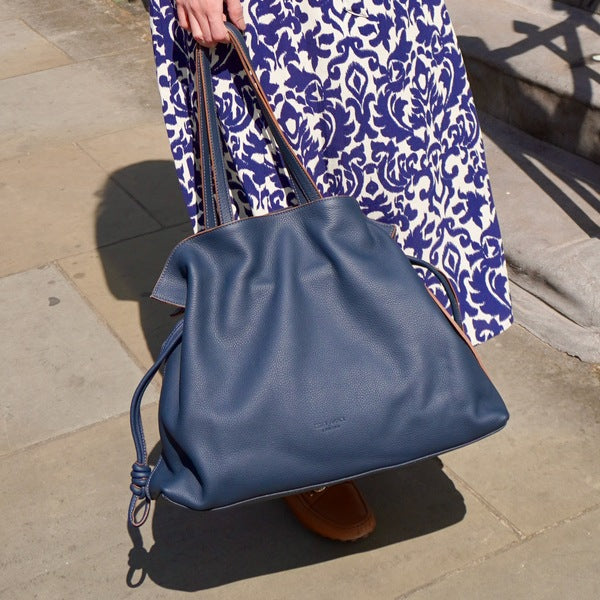 Shop Emma Navy Leather Tote Bag - £495 >
Just at the moment that you are leaving home, you realize that you forgot to take your great bag. You may go to a romantic restaurant with your lover, you may travel abroad, or you will see your amazing friends in a cute café. However, the problem is what kind of purse you will be using to complete your final touch. There are various beautiful purses, yet you are looking for high quality and classy ones. Some purses are very incredible to use on different occasions. It can be a small-sized elegant bag or a very beneficial purse. If you are looking for a useful and stunning purse, Esin Akan produces the most trendy and charming leather purses for you. You may wonder who Esin Akan is and how I can trust this brand. Well, she is a very successful and eligible businessperson who launched her magnificent London based label in 2012. She is an expert on leather bags and she started to run her own unique brand! If you want to combine your outfit with an original and stylish leather purse, Esin Akan is here for your splendid look! After finding the most precious purse that will be a perfect match for your outfit, you may have some concerns. One of the biggest issues is that can a leather purse get wet? It can be a rainy day or something drops on your leather purse. Let's discover the features of high-quality leather purses;
Is it genuine leather or imitation leather?
This is one of the questions while we all ask buying a leather purse. Quite understandable! Esin Akan manufactures and designs the most original real leather bags carefully. As you may guess, since all the genuine leathers are made from the real animal skins, they are not completely waterproof. This is why leather is the most special cloth and it requires regular care and cleaning for a long turn.
Sign up to our VIP Club and enjoy 10% OFF your first order.
Yes, leather is resistant to water by its nature but there are always solutions for your amazing look. The key point to dry your glorious leather purse is to keep it in the home. Let's think that it is a rainy day and your leather purse gets wet! No worries! The main thing you need to avoid is to use a blow dryer, central heating, or any kind of heater! Do not use these machines to dry your precious leather purse! The only thing you need to do is to find a dry cloth and dry the surface of the leather bag with it. Then, let it alone to dry in a room! This is the great method that you need to follow to protect the form and quality of your leather purse! In the end, it will be just like the first day! 
Permanent Solution: Polishing 
You may think that okay, I know what to do if my leather purse gets wet, but what I should do to protect it to get wet. Well, the perfect cure is to use polish! If you polish your leather purse, you can preserve it against possible rain or water. Just polish your great purse before going out! Be careful that the colour of the polish and your purse are the same! However, if there is a permanent stain on your bag and you could not manage to handle it, never push hard! You can damage it; instead, the best way is to take your leather purse to a professional leather repairer. If you cannot find a professional leather expert, it is better to go a good dry-cleaning in your neighbourhood! 
As you see, there is always a solution for your stunning look! If you want to learn more about Esin Akan's great leather purses, you can visit her new designs on the website Do not miss the campaigns and promotions! Start the journey now!
Be the first to know about the season's hottest collections, new products and exclusive offers. Sign up to our VIP Club and enjoy 10% OFF your first order. GET MY 10% OFF!
Collection 2019
Sale 70% Off
Title for image