Black Crossbody Bags Edit
Posted by ESIN AKAN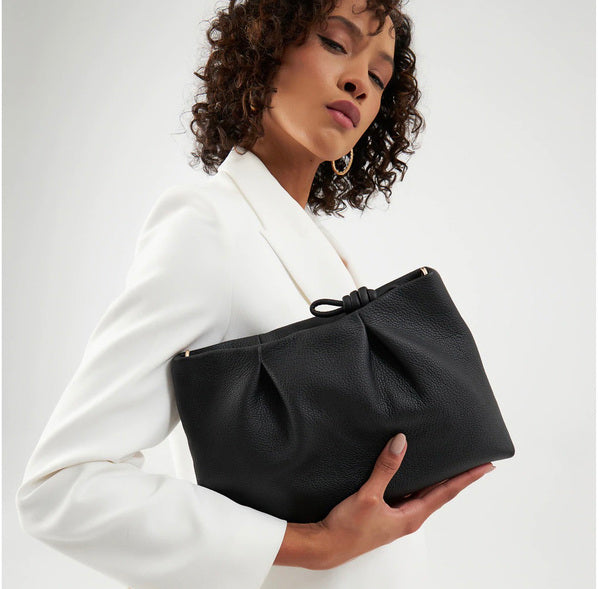 Shop Midi Belgravia Black Crossbody Bag - £395 >
Sign up to our VIP Club and enjoy 10% OFF your first order.
Women often look for smart, stylish, and functional bags for their everyday work and travel needs. Can you guess which style is capable to fulfil these requirements? Yes, a crossbody bag holds the capacity to keep your belongings secure all the time without compromising the style.
In crossbody bags, a black crossbody bag is always the favourite because it successfully blends with every look. Whether you are going to the office, travelling, shopping, or just partying with friends, a black crossbody bag will always enhance your looks. Let's find out why black crossbody bags are always high in demand.
Reasons for High Demand of Black Crossbody Bags
If you ask women reasons behind purchasing a black crossbody bag, most will reply that they don't need any particular reason. But, there are various reasons why women prefer black crossbody bags over other options. Some of them are:
·       Practical
This reason applies to all kinds of crossbody bags, not particularly black coloured. They are the most practical bags for women, especially those who work or travel often. The biggest benefit is that they come with convenient compartments. You can keep all your belongings in an organized manner so that they can be easily accessed when needed.
·       Evergreen
Black is a colour of every season. Be it your dress or the latest crossbody bag in your closet, if they are black in colour, you can flaunt them anytime such as during summer, winter or any other season. Whether on a beach vacation, business trip, workplace commute, or during a party, a black crossbody bag always offers the combination of style, elegance, and features ready to fulfil your needs.
·       Goes with Everything
The beauty of black colour is that it goes perfectly well with everything. Suppose that you have ten different outfits in different colours but don't have enough sources to get 10 different handbags to match those dresses. You can purchase one black crossbody bag from the house of Esin Akan and it will go perfectly well with your every outfit. In short, with a black coloured crossbody bag, there is no need to go with any other colour.
Crossbody bags, in general, are very safe and lightweight. Do you want to know about some of the best black coloured crossbody bags? Here are the top 4:
1.     Midi Pimlico: Midi Pimlico is a top handle bag that can also be used as a crossbody bag. Its timeless design and embossed leather makes this model both eye-catching and sophisticated.
2.     Midi Belgravia: Midi Belgravia is an all-time bestseller bag that is easily convertible into a beautiful handheld clutch, crossbody, or shoulder bag.
3.     Midi Marylebone: Midi Marylebone is an elegant clutch bag inspired by the Royal Family. With its semi-chain strap, you can easily use it multiple ways, including as a crossbody bag.
4.     Mini Belgravia: Mini Belgravia is the smaller version of our bestseller, Midi Belgravia. Adorned by its semi-chain strap, this handbag can be used as a clutch, shoulder, or crossbody bag. 
All black coloured crossbody bags mentioned above are designer, made of 100% genuine leather, and from Esin Akan, the renowned brand of smart bags for smart women. If you are looking to gift yourself a black crossbody bag, click here.
Be the first to know about the season's hottest collections, new products and exclusive offers. Sign up to our VIP Club and enjoy 10% OFF your first order. GET MY 10% OFF!
Collection 2019
Sale 70% Off
Title for image