Nautical Vibes
Posted by ESIN AKAN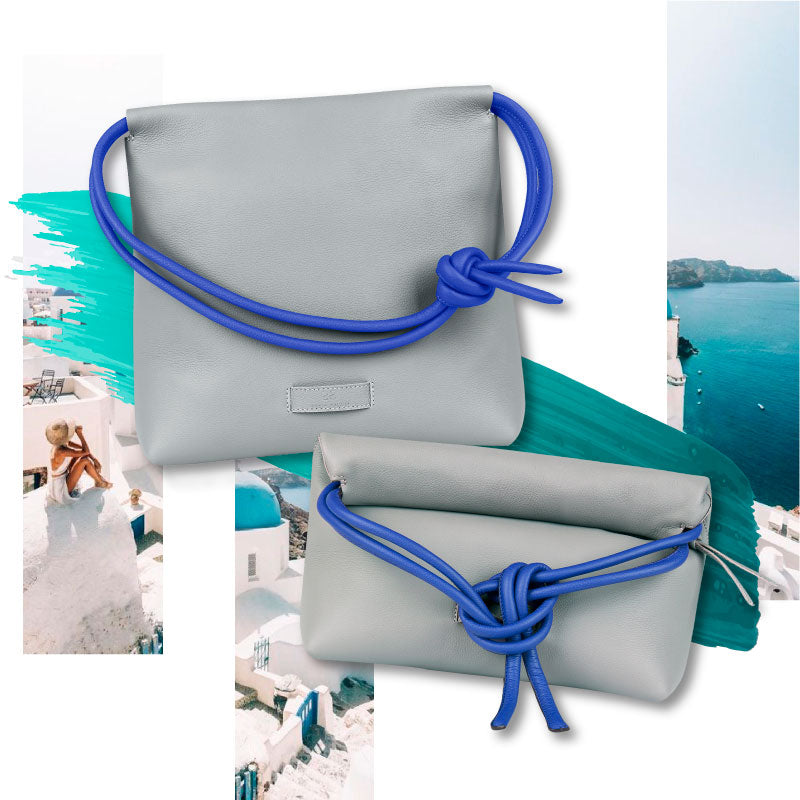 Are you also packing your crossbody bag because you're going on a short vacation with your friends? With summers all around, nautical looks are driving people crazy. Relaxing at the beach during the daytime or evening, partying at the bars are examples of what nautical vibes propose this summer.
As you know vacations are not possible without bags, a short vacay this summer to flaunt nautical vibes will also remain incomplete if apposite handbags are missed. For example, your evening look during the vacation will be imperfect if you don't compliment yourself with a clutch wallet.
Now the question arises, should you carry two separate handbags to a holiday destination this summer? Certainly not, you don't need to bring more than one handbag because designers are investing a lot of time and money every day to come up with something new each time. Here is a list outlining some of the best beach-to-bar handbags and most importantly, they all perfectly merge into nautical vibes!
1. Mini Stockholm (Starfish)
Mini Stockholm from Esin Akan is one of the best designer tote bags this season not just because its navy shade reflects nautical vibes but also because it's detachable strap when attached makes it a perfect crossbody bag. While going to the beach use its crossbody form and put your beachwear and essentials in it and on your way to the bar, remove the detachable strap and use it as a tote bag. Moreover, a zipped pocket and two slip pockets featured in this bag keep your valuables safe.
Mini Stockholm – Tote/Crossbody Bag
2. Sicily (Alloy & Turkish Sea, Navy & Sand)
It is famous as an outstanding leather clutch bag but only a few among us know that it is also an ideal crossbody bag. During your visit to the beach use its detachable strap and make it a crossbody and in the evening, convert it back into a clutch wallet. Esin Akan designed it aiming the holidays and it's two distinct cash pockets to carry different currencies along with a big zipped section for coins proves it. Above all, it's dual-tone colourway (alloy & Turkish sea as well as navy & sand) exhibit the nautical vibes.
Sicily – Crossbody /Clutch Bag
3. Rome (Alloy & Turkish Sea)
This is an optimum day-to-evening leather shoulder bag by Esin Akan and if you are with this bag during your summer holidays, forget any secondary clutch bag. In the daytime, it serves as a shoulder bag and when you roll it down in the evening, it gets converted into a stylish clutch wallet. The dual-tone, zipped top closure, embossed branding, and other features of this handbag clearly show that it is an epitome of nautical vibes.
Rome – Clutch/Shoulder Bag
4. Barcelona (Turkish Sea, Poppy)
Another one on the list is Barcelona by Esin Akan. It is an amazing hybrid bag which is made to be used as both horizontally and vertically. When used horizontally, it serves as an evening clutch and as a leather crossbody bag, when used vertically. It is a single bag that acts perfectly as a travel and an evening bag. Above all, the bright shades of Turkish sea and Poppy reflected by this bag are enough to make it flow in the nautical vibes this summer.
Barcelona – Crossbody/Clutch Bag
Collection 2019
Sale 70% Off
Title for image