How To Pack Light And Stay Hands-Free While Travelling
Posted by ESIN AKAN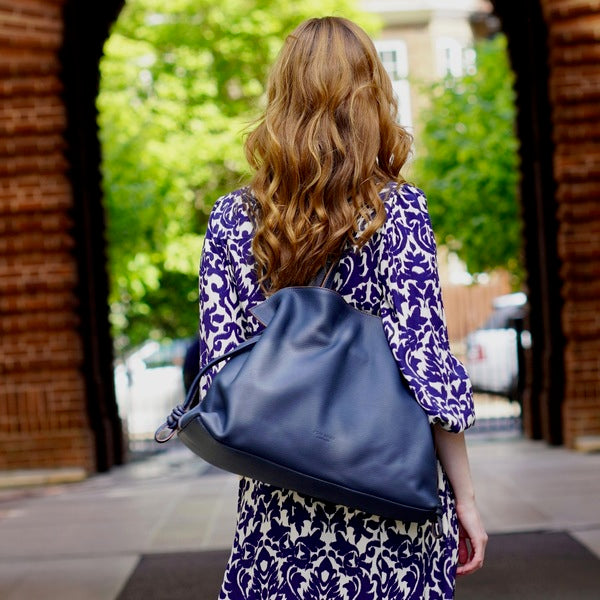 Shop Emma Navy Leather Tote Bag - £495 >
Those who are always on the go will often suggest carrying a convertible backpack while travelling because they know that packing light and staying hands-free is the best thing to do while travelling. Packing light has its own benefits, such as you can avoid baggage fees, airlines won't get an opportunity to lose your luggage, and you will be less strained while navigating some new place.
Also, when other fliers will be awaiting baggage claim, you can pass them and wave for a cab with your free hands. It sounds unbelievable but there are many people who can actually happily complete their trips (both long and short) by packing light. Some travellers know how to successfully travel with a bag or two, but all other folks can continue reading further to know how to pack light and remain hands-free while travelling.
Midi Belgravia
Midi Belgravia is an elegant handbag which can serve as a shoulder bag during the day and as a leather clutch bag during the evening. It frees your hands to do other important things. Made up of first quality bespoke leather, Midi Belgravia from Esin Akan is a perfect bag to travel with.
Shop Midi Belgravia Crossbody Bag in Tan - £395 >
Join our VIP Club and enjoy 10% OFF your first order.
 You should know that there are no fixed standards for packing light but some of these thumb rules can definitely help you to pack light:
Carry a maximum of two pairs of shoes and two dresses, and wear heavier items on the aeroplane.
For long trips, pack only a week's clothes. Do the laundry along the trip.
Pack garments which can easily be coordinated with other items in your tour wardrobe. If the garments don't fit multiple outfits, leave them at home.
When it comes to packing light, even the smallest of space matters. Clean all the clutter out of the wallet by throwing the old or useless grocery receipts, swap your books with a kindle, and avoid carrying any "just-in-case" things which can easily be purchased at the destination.
Some travellers prefer space bags for saving space, but remember that they don't help in staying within the weight limits of the airline.
Since airlines allow you to carry a personal bag, you can carry your leather crossbody bag from Esin Akan with most of your personal things in it. This bag will be better than the purse and can easily fit under the seat.
Rather than folding your clothes, roll them. Not only the wrinkles will be minimized, space will also be maximized.
Cornwall Phone Crossbody Bag
The Cornwall Phone Crossbody Bag is a best-selling from the house of Esin Akan. It is a mini leather phone bag which can be worn multiple ways. Light and versatile, it is perfect for the Summer days.
Shop Cornwall Red Phone Crossbody Bag - £195 >
After deeply studying all the thumb rules of packing light, it can be said that if you carry all your things in a multipurpose bag, you will not only succeed in packing light but also remain hands-free while travelling.
Be the first to know about the season's hottest collections, new products and exclusive offers.
Sign up to our VIP Club
and enjoy 10% OFF your first order.
GET MY 10% OFF!
Collection 2019
Sale 70% Off
Title for image