The Perfect Bag For Women On The Move
Posted by ESIN AKAN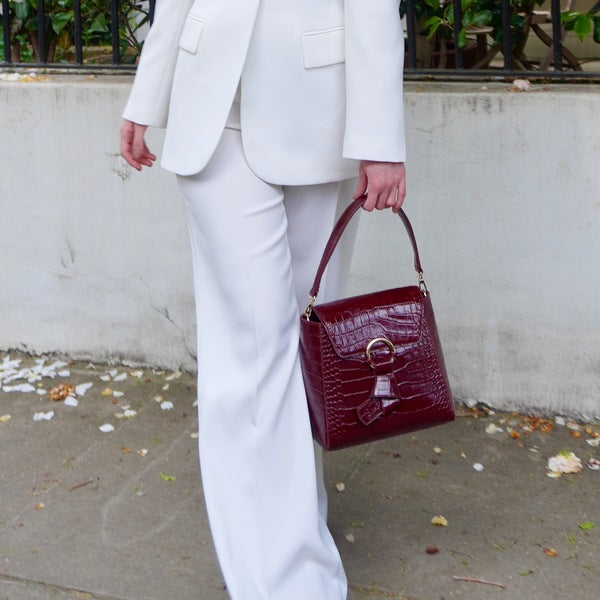 Shop Midi Pimlico Burgundy Top Handle Embossed Bag - £425 >
What is that one thing a woman on the move will want most? Yes, you guessed it right – comfort. Comfort is one thing desired by every woman who regularly moves from one place to another either because of her work needs or home needs. Since travels and journeys are a part of life, you can't stop them. But, one thing you can do is start using convertible handbag whenever you are on the move.
You will no longer go to your office with two bags. A convertible handbag is both functional and stylish. Before writing this article, the views of more than three dozen women were considered. Majority of those women carry at least two bags to their office and the different bags were used to carry their tech devices, workout gear, makeup and a packed lunch.
When women carry so many bags while moving, they abandon any efforts to look sophisticated during their journey. They usually go for men's bags for convenience, carrying laptops, or other important items, and for smaller items, they choose a separate, delightful bag. A need for versatile bags is clearly visible here.
There is good news and it is that the renowned designer Esin Akan has found a way to bridge this gap. The work bag for women are reimagined and a whole new range of womens work tote has been launched at an affordable price. These bags are designed by keeping in mind the technology women carry to work. The devices can easily be placed in separate padded compartments and different pockets aimed to carry different essentials are also present in these bags.
Emma Tote Bag
Shop Emma Black Leather Tote Bag - £495 >
Sign up to our VIP Club and enjoy 10% OFF your first order.
Did you know that this is the ideal tote bag? The major features it has are the knots on the side which make this bag completely expandable. This helps in adjusting the opening and size of the bag. Your tote bag can be converted into a large sized shopping bag in no time. This bag is so spacious that you won't find the need to carry another bag to work, travel or gym. You can easily carry an extra pair of shoes, clothes, or work essentials like A4 sized files and a laptop.  Moreover, it has two slip pockets where you can keep your keys, makeup items, and phone within easy reach. It will serve you for a long time because it is made up of first quality bespoke calf leather.
Midi Belgravia
This is the brand's bestseller and is very famous because it can easily adapt to your needs. You can either use it as a clutch, crossbody bag, and shoulder bag. This bag got the inspiration from city's minimalistic culture and this is one of the reason it is preferred by women who have the movements within the city. Either you to go from one place to another because of work or you like to shop from different places, you can proudly carry this stylish partner.
Be the first to know about the season's hottest collections, new products and exclusive offers. Sign up to our VIP Club and enjoy 10% OFF your first order. GET MY 10% OFF!
Collection 2019
Sale 70% Off
Title for image