How to Wear a Beige Purse in the Winter
Posted by ESIN AKAN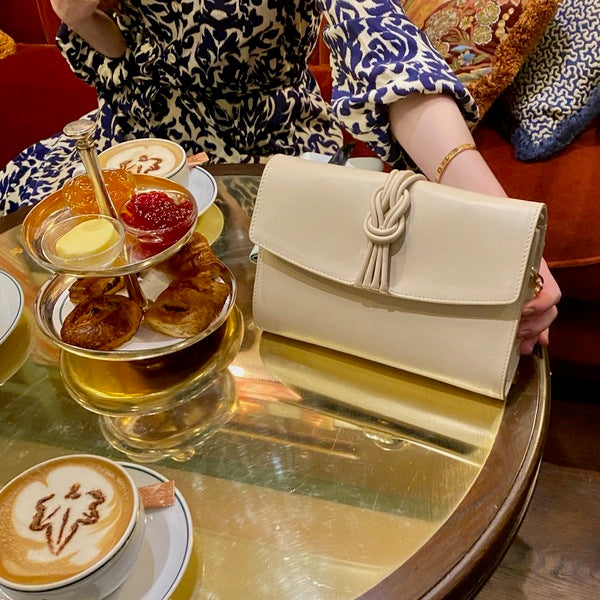 Shop Midi Marylebone Beige Clutch Bag - £375 >
Do you want to buy a beige purse but worried whether or not it's appropriate to wear during the winter? Don't be. Beige is a highly versatile color that can easily be worn at any time of the year which is why you should get yourself at least one beige purse in your handbag collection. Esin Akan's main goal is to create handbags that are truly versatile, no matter the season. Here's how you can get away with wearing a leather beige purse during the winter.
Wear it with dark clothing.
Who says that beige purses or other light-colored purses are only meant to be worn during the summer or fall? A well-made leather beige purse can be worn all year round if you style them correctly. One way to do so is to pair your leather beige purse with navy, brown, green, or red-colored clothing. 
Because it is a neutral-colored bag, a beige purse should be able to complement well with your winter wardrobe without hassle. The classic black and white outfit is always flattering on everyone. It surely will elevate your look if you add a leather beige purse into the outfit. You can also pair the beige purse with a neutral outfit.
Match it with your shoes (and other accessories).
Matching your leather beige purse with your shoes will make the look more coherent and put together. You can also match your purse with your coat if you have it in your closet. It's one of the easiest ways you can do to get away with wearing a light-colored purse during the winter.
 Shop Mini Belgravia Vanilla Small Crossbody Bag - £285 >
Join our VIP Club and enjoy 10% OFF your first order.
Add some scarves to your handbag handle.

 
 Adding some scarves as decor to handbags is not an unheard-of idea. Many handbag owners and collectors add wrap scarves around their handbags handle for added personality, creativity and style.  
Choose a dark-colored or dark-patterned scarf that will complement your beige handbag well. It's a nice way to repurpose some of your own least worn scarves, too! It's a win-win situation. 
Mix and match!
 Go all neutral when it comes to your winter outfit. It might sound like a bad idea but wearing different shades and tones of neutrals such as tan, cream, ivory, white together with a beige purse just look very flattering and stunning. 
 Imagine a tan fur coat on top of a cream top, light brown trousers, and a beige purse. It just looks so put together and totally in season. The key is to layer clothing of different textures so even though your clothes may all have the same hue to them, they still complement each other. 
 Shop Midi Marylebone Beige Clutch Bag - £375 >
Use it as a statement bag.

 
 If all else fails, you can always get away with using a beige leather purse if you're wearing your winter outfit. Your dark winter clothes will make your beige purse certainly pop and elevate your look. No need to mix and match, your purse will always look stunning with your outfit. 
 If you want to buy a beige purse for winter, go for it. It can be a great bag at any time of the year because it can go well with most prints and patterns. Looking for your next leather beige purse to add to your collection? Look no further. Esin Akan has got the most stunning collection of leather purses. You can check our new line of bags and enjoy free shipping worldwide.
Be the first to know about the season's hottest collections, new products and exclusive offers. Sign up to our VIP Club and enjoy 10% OFF your first order. GET MY 10% OFF!
Collection 2019
Sale 70% Off
Title for image