How to Choose the Right Travel Bag For Your Summer Vacation?
Posted by ESIN AKAN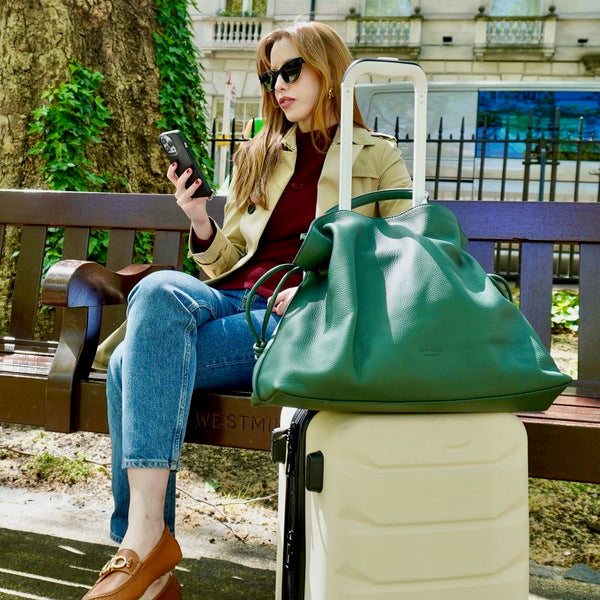 Shop Emma Teal Green Leather Tote Bag - £495 >
Everyone waits for the summer vacations, and most of the people have different traveling plans in these vacations. This is the reason that holidays are the most enthusiastic and adventurous. People intend to travel to various places like a trip to Europe, northern areas or some other hill stations of the country, etc. In all the cases, it is imperative to choose the right traveling bag for your summer vacations. You have to make sure that you keep each and every necessary thing with you before you leave your home. Otherwise, it can create trouble for you in one way or the other.
About the things that you have to take with you before traveling, it is advisable to make a list so that you do not forget anything important. Another significant factor is choosing the bag in which you are going to keep all these things. In fact, it is the foremost thing to do. You must check out the structure as well as the design of the bag. You also need to hold a handbag with you for keeping the things that you need all the time, e.g. your mobile phone, tickets, etc. This bag should not be hefty, and it should be spacious enough to have the capacity to store all the handy things in it.
Sign up to our VIP Club and enjoy 10% OFF your first order.
It is also important to take into consideration the number of pockets in the bag. It is better if the bag has many pockets. It lets you keep the similar things in the same pockets. It also makes it easy for you to search the things that you keep in your bag. You can keep all the keys in one pocket, passports and tickets in another pocket and cell phone in a separate pocket. In this way, it becomes effortless to organize all your stuff inside your bag without creating any mess.
The luggage bags should not be too big that it becomes tough to move that. Instead of one huge luggage bag, you can use two normal sized bags and move them quickly. The number of compartments in a luggage bag, are also important to consider. You should choose such a luggage bag that has different compartments in it, and that lets you keep your clothes and shoes in two separate compartments. You should go for a luggage bag that has wheels on it so that you can drag it easily instead of lifting it up.
This kind of bags save your time and let you avoid some of the troubles that you can face otherwise. They make your holiday easier and more enjoyable and free of tension. There are lots of designs of travel bags with different colors and styles. You can choose that one that best suits your requirements. There are different companies that offer such types of travel bags to their customers at very reasonable and affordable prices. There is a variety of designs and colors of bags available for you.
Be the first to know about the season's hottest collections, new products and exclusive offers. Sign up to our VIP Club and enjoy 10% OFF your first order. GET MY 10% OFF!
Collection 2019
Sale 70% Off
Title for image