Desk to Dinner
Posted by ESIN AKAN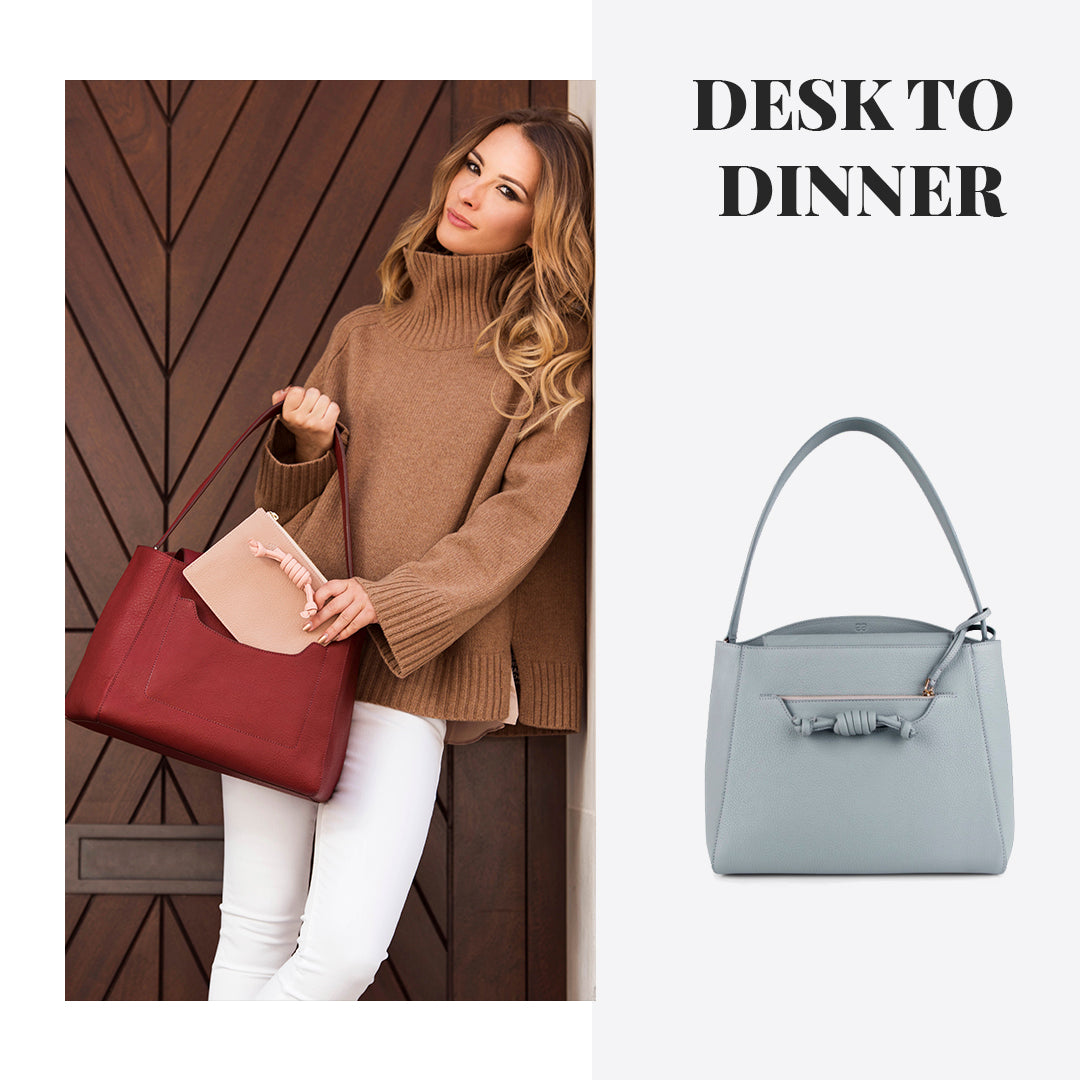 There is no doubt that women of the present generation are an important part of a family, workplace, and society. In simple words, the participation of today's women in every field is appreciable. The way she handles multiple tasks and positions in her life is commendable.
These women require a companion which can accompany them wherever they go, whatever they do, whenever they need. What can be a better option than a handbag? In fact, there isn't anything better than a handbag. The new designers are coming up with handbags which can serve more than one purpose. You can carry the same bag to your workplace and to the evening parties also.
Let's see some of the best handbags which you can carry to a meeting with clients in the daytime and the same bag can be carried to a cocktail bar in London in the evening.
Milan
Milan is recently launched but has become very popular amongst smart women. It is the ultimate leather tote bag and falls into the category of top handle bags which are capable to instantly upgrades your wardrobe. The feature that makes it liked by everyone is the availability of a mini clutch in the front pocket. You can carry either your passport in it or use it as a wallet. In other words, this bag is your perfect companion during travel or during lunch or when you party with your friends after work. It is big enough to easily carry a mid-sized laptop or files of A4 size. Made up of 100% first quality calf leather, this bag has fewer metal accessories which means it is made to be light on your shoulders.
Milan - Tote Bag
Rome
Rome is another famous desk to dinner designer bag. By seeing it for the first time you will feel that it is simply a shoulder bag but after knowing about its features, you will realize that it is a multifunctional shoulder bag that can be transformed into a beautiful clutch bag. There are times when people get a last-minute invitation to a party and they don't have time to go home and change their dress or accessories. This is the perfect bag for such situations because you just need to roll it down and it will convert into a clutch bag. You can go to the party directly from your workplace. Moreover, its top zip closure ensures that your things remain safe when used as an evening clutch. It is spacious enough to accommodate your work as well as makeup essentials.
Rome - Shoulder Bag / Clutch Bag
Sometimes you don't need many choices to make a decision. You see and decide in the next moment that it is the perfect one. The same is the case with these two bags. These are the perfect desk to dinner bags by a smart brand and for the smart women.
Yes, both the bags mentioned above are from the renowned handbags brand Esin Akan. You can visit its
online store
and purchase these desk to dinner bags.
Collection 2019
Sale 70% Off
Title for image