6 Opinions on Shoulder Bags vs Backpacks
Posted by ESIN AKAN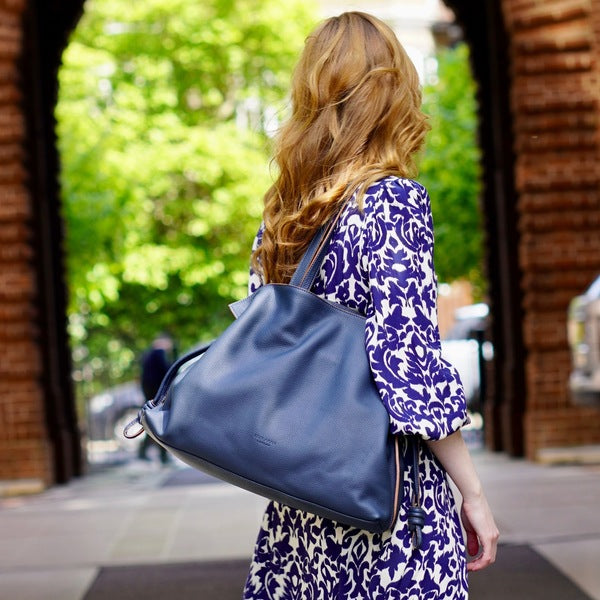 Shop Emma Navy Leather Tote Bag - £495 >
Shoulder bag and backpack are used frequently by many people today. Your preference may vary depending on your intended use. In this article, we will discuss the factors that make the functions and uses of each bag an excellent transportation option. You can find 6 ideas that may help you to choose the right one.
Ease of Use
Today, shoulder bags are becoming trendy and popular. Because it is much easier to use than other types of bags. Office workers, students and business professionals are using a shoulder bag. Because it offers more ergonomic use during walking. You also get more comfortable when you want to take something out of your bag. At the same time, the shoulder and back are evenly loaded. For this reason, you can carry heavier items. Moreover, these bags are not only fashionable but can also be used to carry a laptop.
Sign up to our VIP Club and enjoy 10% OFF your first order.
Practicality
The backpack is carried on the shoulder and secured with two thick straps. It is usually made of nylon and leather. Backpacks can have many different designs. It is often used very often by professional hikers and climbers. It is also an important alternative for students. They are more practical than handbags because they allow heavy loads for a long time. If you are going to carry a heavy load for a long time, this bag is more suitable for you. For short-term use in city life, the shoulder bag is a more accurate option.
Elegance
An important parameter to consider when choosing between a backpack and a shoulder bag is an elegance. Think of your style of clothing first. Which bag is the most suitable for this? The bag you choose should be stylish and fashionable. Backpacks are often used by college students and travellers. This type of bag is functional because it can carry heavy loads like books easily. Your style largely depends on your personal preferences. Backpacks tend to be a safe choice with various designs from different brands. Shoulder bags, on the other hand, offer a more professional style that fits the everyday office environment or university campus.
Sign up to our VIP Club and enjoy 10% OFF your first order.
Requirements
If you are going to choose between a backpack and a shoulder bag, you should also consider the requirement. First of all, you need to check the bag design that suits your needs. In most cases, backpacks tend to be more comfortable when it comes to functionality and style. The backpacks offer versatile use. On the other hand, shoulder bags are ideal for carrying briefcases. It is difficult to find a better option if you are an office worker. Today, shoulder bags come in different designs and styles. And more and more practical models are coming up.
Storage Capacity
A bag is, above all, a means of transport. Think about what you're carrying. Also, consider how much weight you carry. Storage capacity depends on your needs. While most backpacks have a smaller storage capacity, shoulder bags are almost the same in size unless you choose a larger sized one. However, if you want a bag with better storage space, you should get a larger laptop bag that can easily carry everything you need.
Handling experience
If you want a less stressful day, the transport experience should be decisive in making your choice. Depending on your needs, you must make the best choice. However, many people tend to prefer a double-strap backpack. Both backpacks and shoulder bags are suitable for carrying goods, but the shoulder bag is the perfect choice for carrying heavy loads for a while. You don't have to carry a shoulder bag for a long time as it can squeeze your shoulder.
As you see, there is always a solution for your stunning look! If you want to learn more about Esin Akan's bags, you can visit her new designs on the website. Do not miss the campaigns and promotions! Start the journey now!
Be the first to know about the season's hottest collections, new products and exclusive offers. Sign up to our VIP Club and enjoy 10% OFF your first order. GET MY 10% OFF!
Collection 2019
Sale 70% Off
Title for image