What Not To Do On An After Work Date
Posted by ESIN AKAN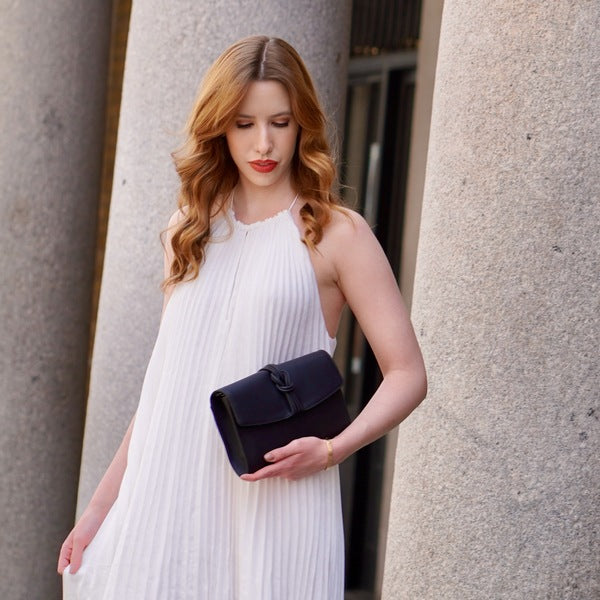 Shop Midi Marylebone Black Clutch Bag - £375 >
If you are going on a date during the weekends, it's obvious that you will get a few hours to wear that new dress or match your wardrobe with your new evening clutch. But when you go on an after-work date, you don't get enough time to get ready.
For an after-work date, you need to come prepared from your home only. Wear an attire appropriate for the workplace as well as for your after-work date. Moreover, the handbags you carry should be convertible like the Midi Belgravia, as it can be used as a working bag as well as an after-work party or date bag.
Sign up to our VIP Club and enjoy 10% OFF your first order.
Apart from dressing appropriately and carrying the perfect handbags, there are some other things one should avoid doing on an after-work date:
Avoid the Work Talks
Your date will understand if you carry the same leather shoulder bag to your office and after-work date but this doesn't mean that your conversation should be all about work and workplace. Sometimes when you don't know the other person quite well, this kind of conversation can somehow keep you engaged but the truth is that not many people are interested in listening about your projects, work environment, and the people they don't know anything about.
When work is talked about, briefly discuss it and then swiftly change the conversation. It's your date, so get to know him.
Don't Drink Much
When on a date, people usually grab drinks to overcome any sort of awkwardness. It is easy to talk to someone on a date while drinking vodka tonic. But, always be cautious and don't drink much. It is never a good idea to get drunk on an after-work date because you will end up with lots of embarrassment. So, always remain on the safe side and drink within limits, Vodka will always be there but if your image is deteriorated in front of your date, it will be hard to recover.
Avoid Stressing Out
After wearing a nice dress, buying new leather crossbody bag (convertible one), and doing a lot of thinking about your date, don't panic. You are going on a date to enjoy someone else's company and have fun, your date might or might not become your romantic partner in the coming time. If your date is successful, you will have a much exciting future. If your date doesn't go well, you will still have the weekend. Go for shopping and gift yourself the latest Mini Belgravia. Always remember, do not put any kind of unnecessary stress on yourself.
Handbags play an important part in enhancing your looks for a date. Get the latest designer and above-mentioned handbags from the online store of Esin Akan.
Be the first to know about the season's hottest collections, new products and exclusive offers. Sign up to our VIP Club and enjoy 10% OFF your first order. GET MY 10% OFF!
Collection 2019
Sale 70% Off
Title for image