When should a teenager buy her first luxury handbag?
Posted by ESIN AKAN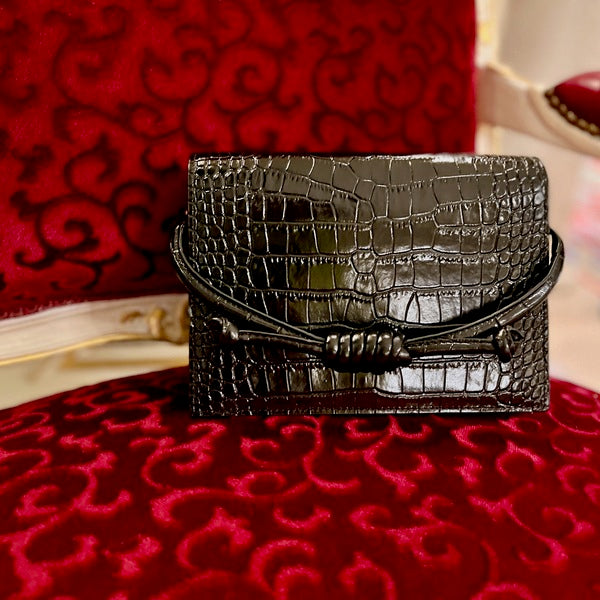 Shop Midi Chelsea Black Embossed Clutch Bag - £325 >
Buying a new luxury handbag is one of the most fun and challenging experiences any girl would have in her lifetime. However, because these handbags come with a hefty price tag, it's crucial to get it only when you're ready to have one. Here we'll talk about the perfect time to get your first luxury handbag.
Budget is one of the most important considerations when deciding to get a luxury handbag for a teenager. Most teenagers would start catching interests in luxury handbags at around age 15 or upon starting high school since this is when most teenagers could actually use them for parties and school. Moreover, most girls at this age would start working part-time which would help them afford these bags. They would also have more exposure to these handbags at this age from watching movies, TV, and from friends. 
Age is a defining factor in buying any type of handbag regardless if it is a luxury handbag or not. Younger teenagers would be leaning towards trendier and brighter pieces. They usually go for smaller bags like handbags or shoulder bags. Typically, they would go for pieces for fashion and aesthetic over something that's functional.
Sign up to our VIP Club and enjoy 10% OFF your first order.
Meanwhile, older teenagers would probably go for luxury handbags that are more usable and durable for everyday use. They would also be leaning towards pieces that are more neutral so as to match with any type of outfit and be appropriate in any type of event. Moreover, they would also be able to afford more expensive pieces to put in their wardrobe.
Some girls would be interested in bringing luxury handbags at an even earlier age. In this case, most would opt for bags on the lower-end when it comes to price. They would also go for bags that are a lot of trendier and more colourful. Functionality may not be a major concern for most of them.
There is no set age as to the right time to get your first luxury handbag. However, the magic age is at around 15 to 16 years old. At this age, luxury handbags would be actually more useful for day-to-day activities and events. Furthermore, they would be more responsible and careful about their bags. Girls at this age would more or less have a good grasp of the value of their bags.
Shop Midi Belgravia Tan Crossbody Bag - £395 >
There is nothing wrong with getting a luxury handbag at an early age. If you have the budget for it and you know you will get good use out of it, it can be one of the most fulfilling purchases you could make during your teenage years.
Furthermore, owning and wearing a luxury handbag is one of the best ways a girl could express her fashion sense and creativity. It allows her to find her sense of style at a young age which would definitely help her confidence and other aspects of her life in the future.
The journey to getting your hands on your first luxury handbag is a fun and exciting one. There are plenty of choices you can choose from so you should always explore your options first before actually spending your money on a luxury handbag for teenagers. Head on over to esinakan.com to get your very first luxury handbag.
Be the first to know about the season's hottest collections, new products and exclusive offers. Sign up to our VIP Club and enjoy 10% OFF your first order. GET MY 10% OFF!
Collection 2019
Sale 70% Off
Title for image