What Are the Main Characteristics of Stylish Handbags for Women?
Posted by ESIN AKAN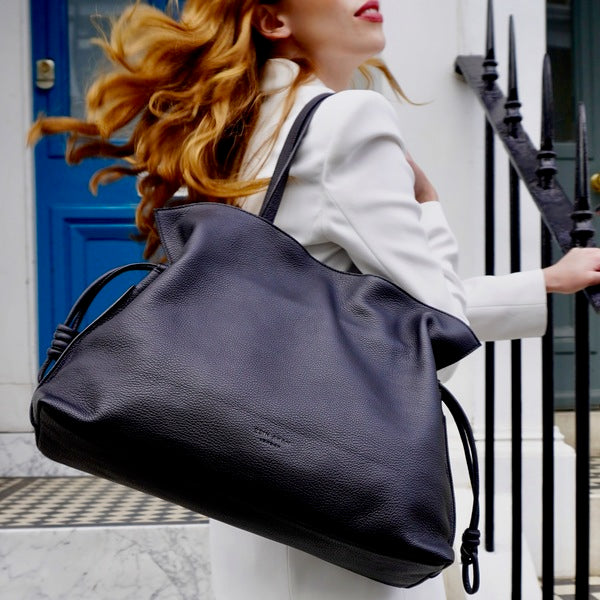 Shoulder bags, box bags, crossbody, totes, pouches - the assortment of options in the handbag family should make it challenging for a woman to pick one, but does it? Often, you'll see fashionable women get into a bag store and come out with the "it" bag. What makes a woman prefer one bag design over another?
Quality
Some women would rather save money for months or ever one year to afford a specific brand of the bag, say Chanel. This is because they trust the quality of these brands and although there may be fake bags that mimic the brands, you find they are weak and are prone to quick tears.
Quality of a bag is in the craftsmanship of the hardware, inner lining and the seams. As a woman's handbag is her shadow, it's safe to take quality over the price. Some designs, although with proven quality, are overpriced. We can't start the debate on how much you should pay for quality, but a pro tip is to trust your guts.
Versatility
Who doesn't love a handbag that can fulfil all her needs? Handbag designs that allow you to transition from casual to an official by adding some accessories or a shoulder strap have gone mainstream.
An example of a popular bag that is a must-have in every closet is a clutch. A clutch can hype your look instantly by a simple addition of a strap and make you party ready. You can remove the shoulder strap and carry the bag for a dinner date. In this example, the strap makes the bag a string bag while its removal returns the bag to be a clutch.
Join our VIP Club and enjoy 10% OFF on your first order!
Comfort
Never assume that comfort comes with every bag out there. For a bag to be considered stylish, it should have trendy colours that blend well with most outfits. Specific skin tones match better with particular colours. Some colours like black, tan and brown can be worn by people of all skin tones.
The design of a bag will also define the level of comfort it offers. Soft and light bags adapt more to most body types and are easy on your shoulders. A handbag is not a backpack, so if it's too heavy it will have a negative toll on your shoulders.
One other thing that can make one bag more comfortable than another is the padding in the bag. Bags with a bottom and side padding will keep your items in place and make you more relaxed while walking with them.
Spaciousness
There's a joke that was going around social media that some women's handbags are big enough to carry all their problems. Well, we know little about that, but a stylish handbag should definitely have enough room for your phone, wallet, electronics, and toiletries, makeup and even food and some clothing if you must have these.
A spacious bag should also have a thick, well stitched inner lining that allows it to endure the weight. Exterior storage space or pockets where you can put an umbrella or beverage is an added plus.
Cheap bags are rarely stylish, but that's not to say there are no affordable handbags that are cute. Use these characteristics highlighted here to get the best buy for stylish bags on Esin Akan.
Collection 2019
Sale 70% Off
Title for image