Neutral Color Bags are In!
Posted by ESIN AKAN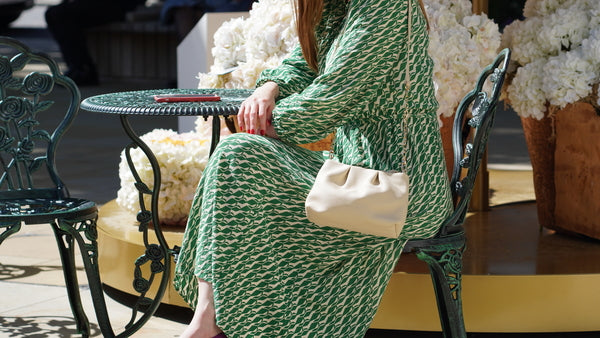 Shop Mini Belgravia Vanilla Small Crossbody Bag - £285 >
Everyone would like to have an appearance that is attractive to others. Also having such a view would help in increasing the self-confidence of a person by a large factor. And when it comes to looking attractive, being fashionable is a very important thing.
Following fashion is something that can be quite tricky. The reason is that there are various categories to follow and keeping an eye on everything is important. This is because even it one accessory that you wear is not trendy then your overall appearance would suffer. So the first thing that you need is open and keep a pair of eyes for updates.
Everything from clothes to all the accessories that you use like earrings would have a role to play in making you a trendy person. Everything needs to be carefully selected or else the money that you spend might not be worth the cost.
When it comes to accessories that women use, bags are perhaps the most popular ones. The range of products to choose from is vast and choosing one would be a tricky task. Nude clutch bag, beige clutch bag, beige handbag etc. are some of the many categories of products.
Sign up to our VIP Club and enjoy 10% OFF your first order.
Choose a bag that suits you:
Every person has a different appearance and also a different set of interests. Hence every person would have to select a bag that suits her interests. There would be numerous other factors that might persuade you to do otherwise but the truth is that it is you who would have to use the bag and hence it should be one that is according to your interests. So make sure that you know what you want and then make the choice accordingly.
Neutral colours are the best:
When it comes to selecting a bag, the most important factors that need to be considered are the colour and the design. Bags are available in almost every colour and you need to select the bag according to the use. This means that if you need the bag to take it to your office, then the ideal option would be to buy a bag that is of a neutral colour. Beige, rose, sand, light etc. all falls under this category of colours. In fact, neutral colours have become a trend and even those who use bags for parties have turned to neutral colours.
Conclusion:
The internet can be effectively used in order to find a store that can sell you the ideal fashion product. Another thing to keep in mind is that you should only visit sites that are trustworthy because false details would be misleading.
Be the first to know about the season's hottest collections, new products and exclusive offers. Sign up to our VIP Club and enjoy 10% OFF your first order. GET MY 10% OFF!
Collection 2019
Sale 70% Off
Title for image