How to Wear a Bucket Bag like A Pro?
Posted by ESIN AKAN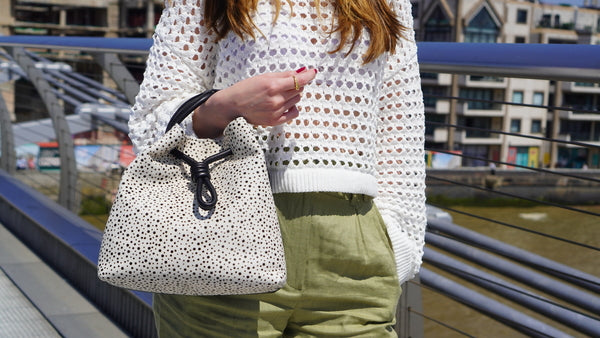 Shop Midi Richmond Cheetah Bucket Bag - £258 >
Let's be honest: Bucket bags are a trend that is not fading away any time soon. The tradition of bucket bags can be traced as far back as 1932 when Loise Vuitton's famous Noe Bag made headlines for being the trendiest and for "carrying Champaign". In the 1960s designers like Bonnie Cashin brought the idea of "if the bag is not broken don't mend it" with her paper shopping bag design.
We could talk about the history of bucket bags for pages after pages, but you're not here for that. What's important is that designer houses like Louis Vuitton, Koret, Hermes and Coach have made this trend hold a firm position at the top for an every-season bag.
There are different reiterations of the bucket bag trend both for the ones with handles at the top and the traditional bucket bags. Good news is that there is a diversity in the variety of colours of our leather bags, which makes these bags fit every personal taste and mood. Here are tips for flaunting that bucket bag you saved so long for.
With Tan and Black Outfit
A black or tan outfit is a brilliant ensemble with a miniature bucket bag in any shade of blue. Fiery red colour has an inviting vibe to it and if you have one of these, you have a bag to carry for any time you plan on wearing an outfit with prints.
Sign up to our VIP Club and enjoy 10% OFF your first order.
Top Handle Bucket Bag for Official Look
The reason why bucket bags have stood the time is the flexibility of their designs. One of these designs is the solid bucket bag with a top handle. These bags are fun to carry but will blend more with an official look than a casual one. Wear cream coloured office pants with the same coloured of top-handle bucket bag or another neutral colour like tan.
Classy Leather Bucket Bag with a Casual Outfit
The most versatile material for bucket bags is leather and interestingly leather is also the most versatile material for bags. Whether your idea of casual is jeans or khaki, there is no limit to the colour of the bucket bag you can pair it with. Black, brown or tan bucket bag with straps will give you a comfortable look is you have a more reserved personality. For the flower wall girls, go for bright coloured like a fiery red and shades of blue.
Mini Bucket Bags
Being a modern woman is all about keeping up with trends. High-end mini bucket bags with a knot are a good way to bring out your class. These bags come in mainly two designs; double-hands mini bucket bags and top handle mini bucket bags.
The double hands are perfect for women who're on the go and love a bag that can fit all their essentials. The top handle bag is perfect for the office women who only want to carry work-related things. Either way, both are luxury bags and will look perfect when paired with your classy outfit.
Conclusion
Modern high-end luxury bucket bags are a brilliant way to stand out from the crowd. Choose a design and colour that flaunts your personality and also consider the occasion so that you don't look out of place. Want to know which bucket bags are trending right now? Head over to esinakan.com for a bucket bag that speaks of your class.   
Be the first to know about the season's hottest collections, new products and exclusive offers. Sign up to our VIP Club and enjoy 10% OFF your first order. GET MY 10% OFF!
Collection 2019
Sale 70% Off
Title for image