Best Tote Bags for Work
Posted by ESIN AKAN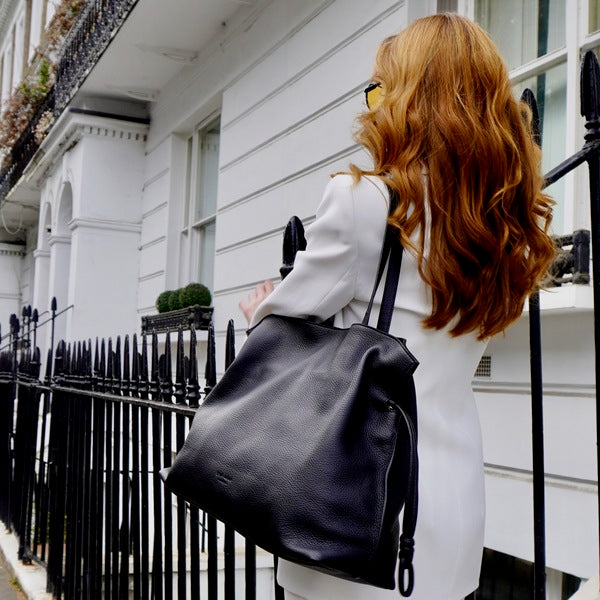 Shop Emma Black Leather Tote Bag - £495 >
Style and fashion are two things that must be carefully followed. This is especially true if you are someone who loves to look good before others. The only thing that needs to be taken care of is that you would need to keep yourself updated at all times about the latest trends in the field of fashion and style.
The accessories that one carries like bags are equally important as the clothes when it comes to the visual attractiveness of a person. And if you are a person who likes to carry around attractive bags that are also comfortable, then tote bags would be the ideal choice.
When it comes to women's tote bags, there are numerous options available in the market. It is up to the user to choose the one that is ideal for her taste and requirement. Here we would discuss the different tote bags that would be ideal to take along when going for work. There are various factors that should be considered when it comes to work bags.
Sign up to our VIP Club and enjoy 10% OFF your first order.
The price:
Just like any other product, the price is a very important thing when it comes tote bags for work. Proper consideration should be given to all the factors like durability, comfort etc. and then you would be able to decide whether the price is a feasible one. The better option would be to buy a middle price bag because fashion is something that would change quite often. Hence you would need to buy a new bag when the trend changes. So spending a lot of money on a bag that would last for a long time wouldn't be a very wise decision. 
A material of the bag:
Tote bags are available in different materials. The material is chosen depending on the use of the bag. Since bags for work are considered, leather would be a very good choice. Leather bags would have a classy look and at the same time, they would be quite handy as well. Cloth bags with designs are also quite popular. Cloth bags would lighter than leather bags but the problem is that such bags wouldn't as durable as the tote bags made from leather.
Design of the bag:
This is perhaps the most important factor to be considered when it comes to a person who is very critical about fashion and style. Since the bags are intended to be taken to the office, bags with very striking designs wouldn't be the ideal choice. The colour is also quite important. The Emma Tote Bag is a well designed bag that is also available in multiple colours. 
When it comes tote bags for work, it is important to consider all the different factors mentioned above. Visit Esin Akan know more about tote bags.
Be the first to know about the season's hottest collections, new products and exclusive offers. Sign up to our VIP Club and enjoy 10% OFF your first order. GET MY 10% OFF!
Collection 2019
Sale 70% Off
Title for image