Top 7 Handbag Bloggers from New York
Posted by ESIN AKAN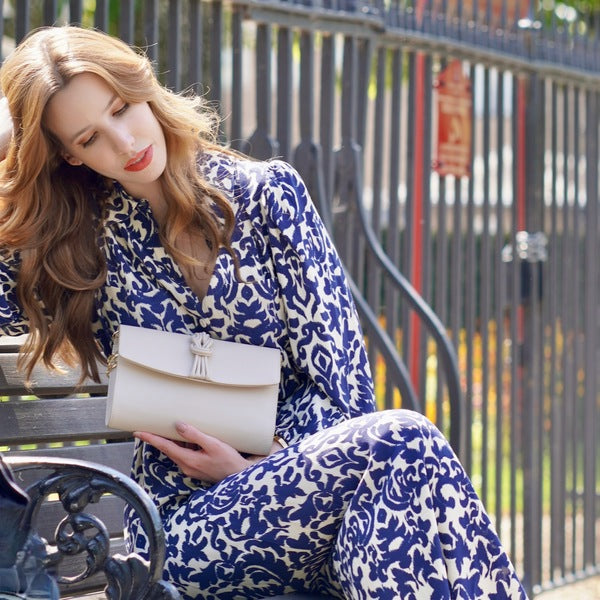 Shop Midi Marylebone Beige Clutch Bag - £375 >
For those of us who are too busy to keep up with handbag trends showcased on runways or fashion magazines, we make do with handbag blogs. Top handbag bloggers are a great inspiration for our everyday look and we follow them on their websites or Instagram to get ideas on how to match different bags with a specific outfit.
Currently, there's a handful of NY handbag bloggers. Some know their stuff well and others who are just testing the waters and finding their path in the glam world. So who are the top 7 handbag blogs from New York to follow (assuming you don't follow them already).
#1. Bag Snob
Tina Craig, the beautiful woman who launched this blog in 2005 is obsessed with all things luxurious. She initially related the blog to offer her two cents on trending fashion bags that allure to luxury oriented readers, but the site has since grown so much and now covers a variety of topics from lifestyle to beauty and even trend forecasting. Tina has been widely exposed to brands like Valentino, admired stylists and top designers like Victoria Beckham. Her content is therefore accurately curated and will enlighten and educate you at the same time.
#2. Ona Bags
If you're looking for a tattler of crafted handbags (camera bags) and accessories on the net, visit Ona bags, or ONA blog as the site calls itself. Ona is a Swahili word for "see". So the name probably suggests that the eyes behind the blog can see all new and future bag trends.  Ona sells its own bag designs which they promote as timeless and handy pieces.
Shop Midi Chelsea Green Clutch Embossed Bag - £325 >
Sign up to our VIP Club and enjoy 10% OFF your first order.
#3. Purse Blog
This New York based social network and fashion magazine that covers everything about designer handbags. Here is where handbag lovers can find the latest news on which celeb is wearing which bag and what new designs have been released by a famous brand. There are at least 13 new posts every week so readers are kept entertained.
#4. Clutch Bags
Clutch bags dot com is an online retailer of handbags, clutches and accessories made in the U.S. The site has a blog dedicated to the bags dedicated to news on the designs already in their store and as well as new brands and designers breaking the ice in the industry.
#5. Jenneng – Waxed Canvas Bags
This is yet another popular New York based online handbag retailer. The site advertises its utilitarian bags as durable and made of sustainable materials. Their bag is purely dedicated to the bags they have in store and new arrivals.
#6. Basader
This blog is dedicated to handmade messenger leather nags. They have at least one new content every month that covers briefcases, totes, leather accessories, and handmade bags.
#7. Esin Akan
Esin Akan sharpened her knowledge and skills on leather goods and handbags while working in some of the world's most popular fashion houses like Burberry. She launched her brand in 2012 and started selling her own designs on her website. All her bags are designed to style up busy women on every type of occasion.
Be the first to know about the season's hottest collections, new products and exclusive offers. Sign up to our VIP Club and enjoy 10% OFF your first order! GET MY 10% OFF!
Collection 2019
Sale 70% Off
Title for image